WATL® Competition Thrower
Regular price

Sale price

$47.95 USD

Unit price

per
NO MORE DROPS

Our thin profiled blades help you stick the axe to the board every time. No more worrying about your arm strength!
STOP SHARPENING

Ready to throw out of the box! Stop wasting time sharpening hardware store hatchets and camping axes, WATL axes are built for throwing.
GOODBYE WRIST FATIGUE

Ranging from 1.9-2.5lbs our perfectly balanced axe lineup will have you throwing for hours. Average Competition Thrower Weight: 2.35 lbs
"Great throwing axe for beginners."
- Trey C.
A FANTASTIC THROWING AXE FOR THOSE JUST STARTING OUT AND AXE THROWING VENUES ALIKE
BUY MORE, PAY LESS
With tiered discounts you save money based on the amount of axes you buy:
1-3 Axes: Full Price

4 Axes: Save 5%

8 Axes: Save 10%

16+ Axes: Save 15%
DESIGNED TO THROW
The Competition Thrower is specifically engineered for axe throwing, boasting a thin and sharp profile that allows you to effortlessly stick your axe in the target every time. Its straight-handle design ensures precise throws, enabling you to hit the bullseye with pinpoint accuracy. 
BEGINNER-FRIENDLY
Designed to cater to both beginners and intermediate throwers, the Competition Thrower is the ideal throwing axe for entry into the exhilarating world of axe throwing. Its competitive price, coupled with its exceptional durability, makes it a favorite for both beginners. Get your hands on the World Axe Throwing League® Competition Thrower TODAY!
VENUE-APPROVED
With the Competition Thrower's low price and exceptional durability, it's easy to see why it's the top choice for many venue owners. With its carbon steel head and American hickory handle, this axe can withstand the abuse that inexperienced customers put it through. Furthermore, replacement handles are available at a low cost if you do have a handle break! It's no surprise this axe is the top pick for venue owners looking to provide an unforgettable experience for their customers. 

STRAIGHT 16" HANDLE
Crafted with meticulous attention to detail, this throwing axe features high-quality 16" American Hickory wood handle that not only offers an easy release for increased accuracy, but also enhances its durability.
AXE SPECIFICATIONS
Head: 1045 Carbon Steel

Handle: American Hickory
Blade Finish: White Semi-Gloss Paint
Handle Finish: Clearcoat Varnish
Handle Length: 16 in
Approx. Blade Length: 3.5 in

Approx. Head Weight: 1.65 lbs
Approx. Total Weight: 2.35 lbs
Sheath Included: Yes
Please note: These measurements are approximations and differences may be present due to the manufacturing process.
Please note: Shipments to the UK & countries outside of North America may have local import duties/taxes charged on purchases.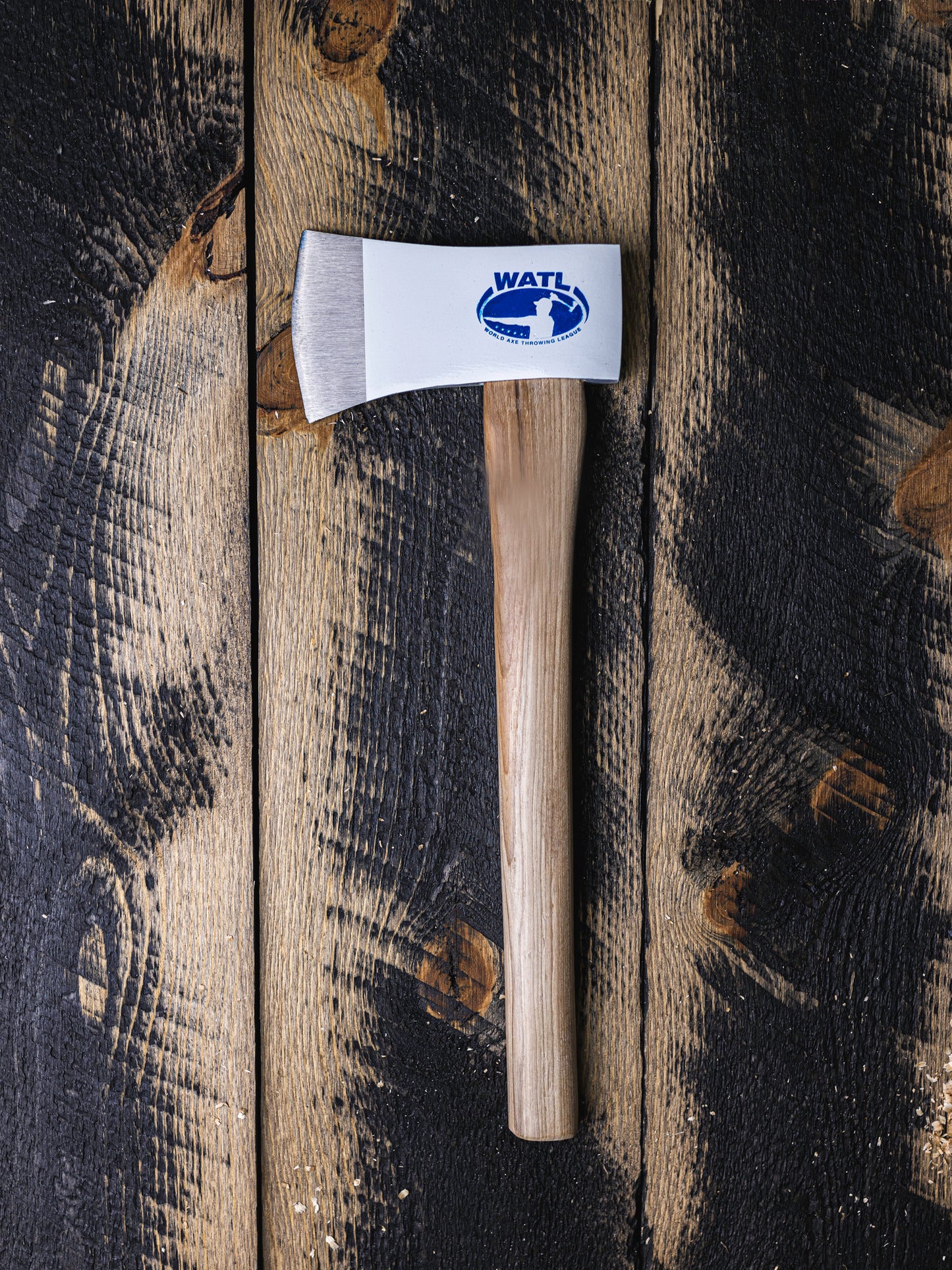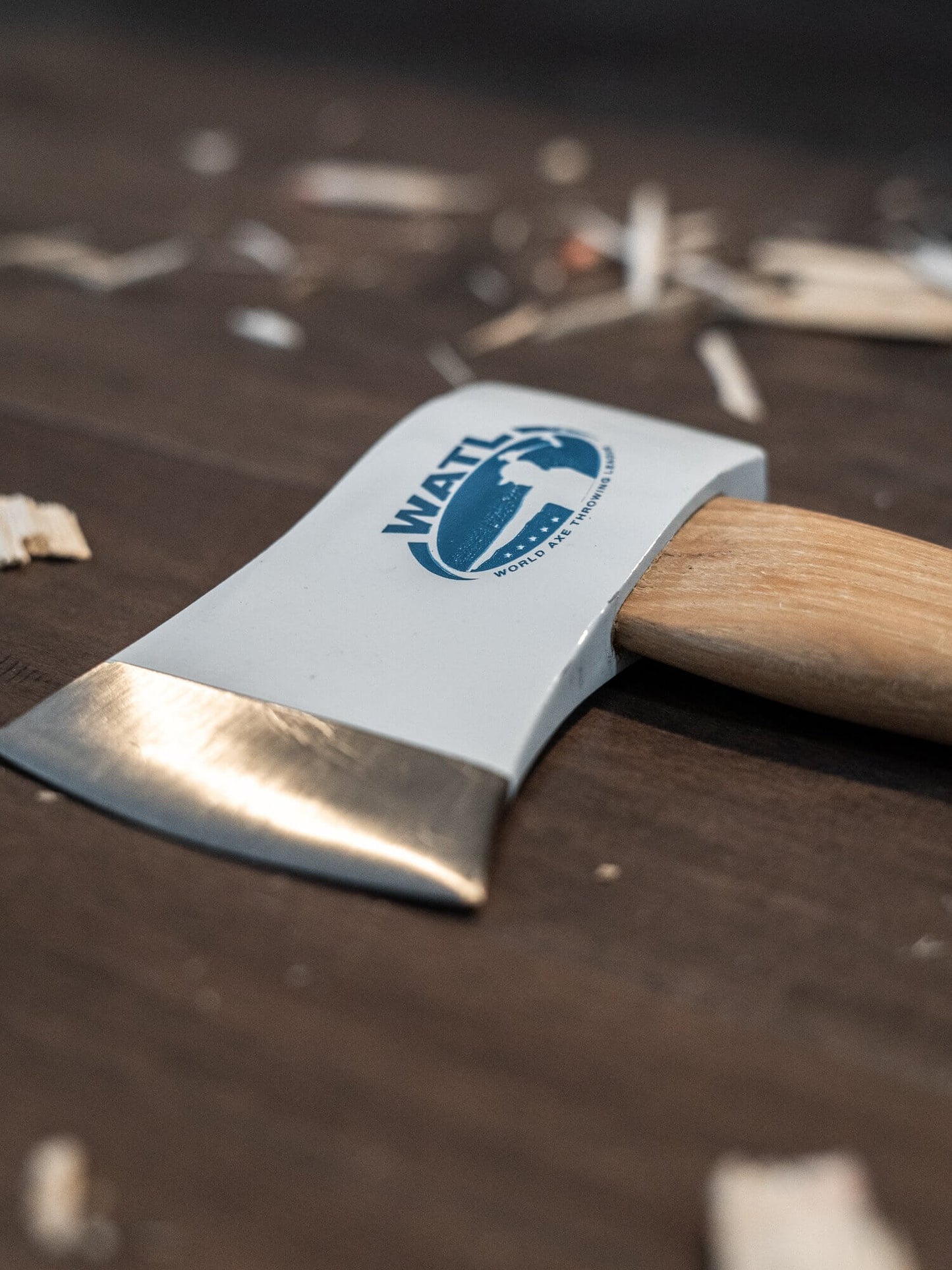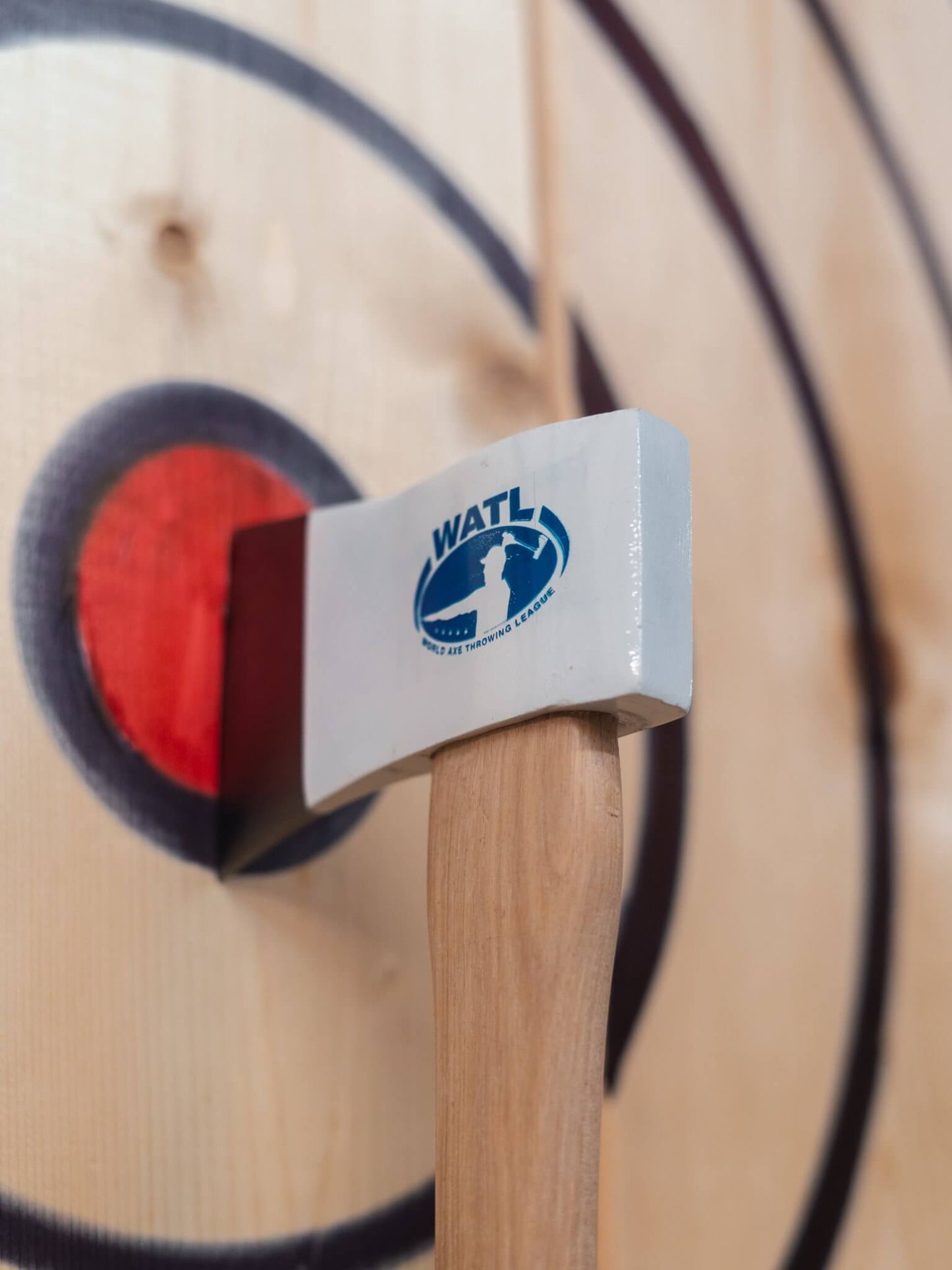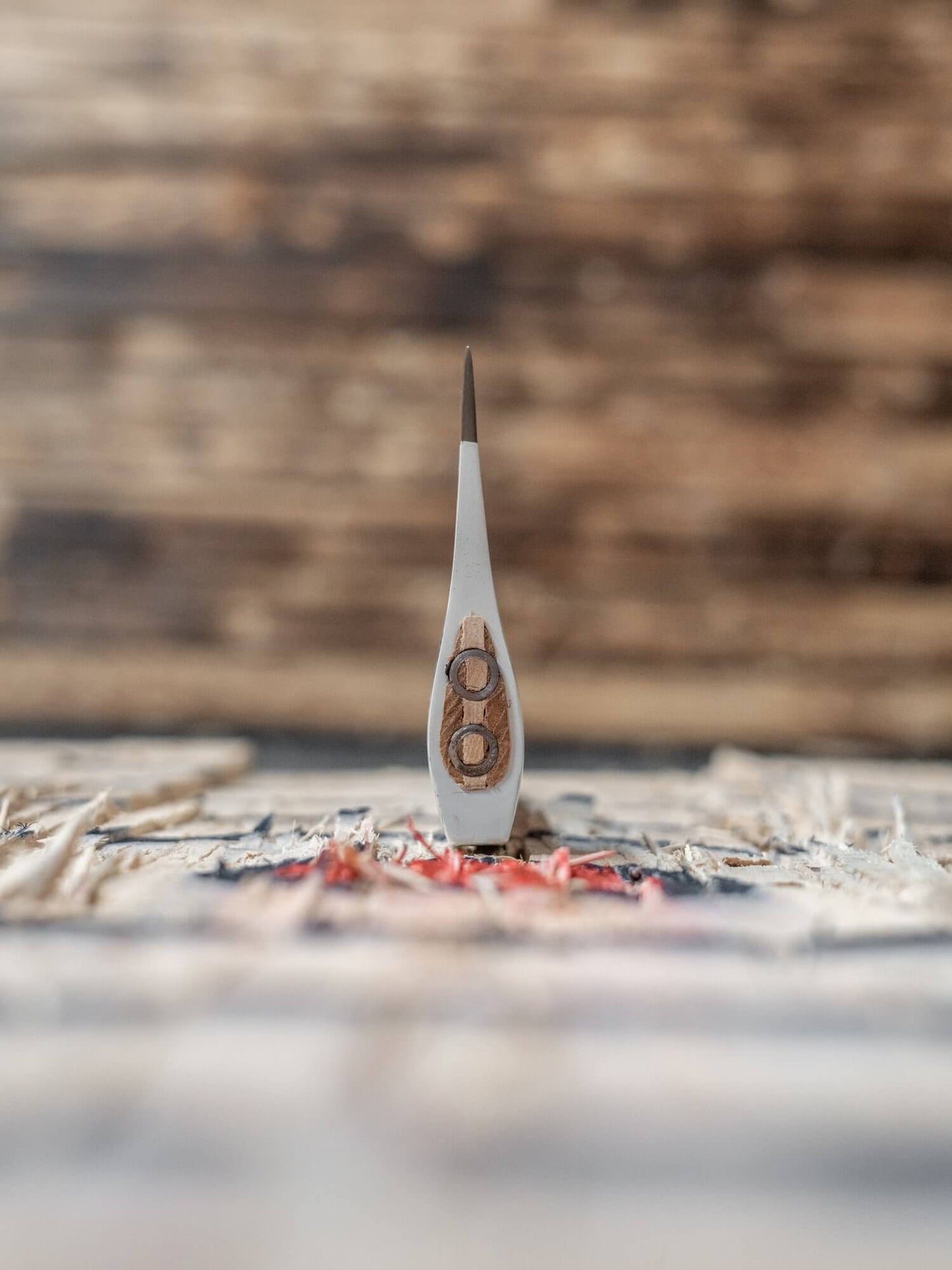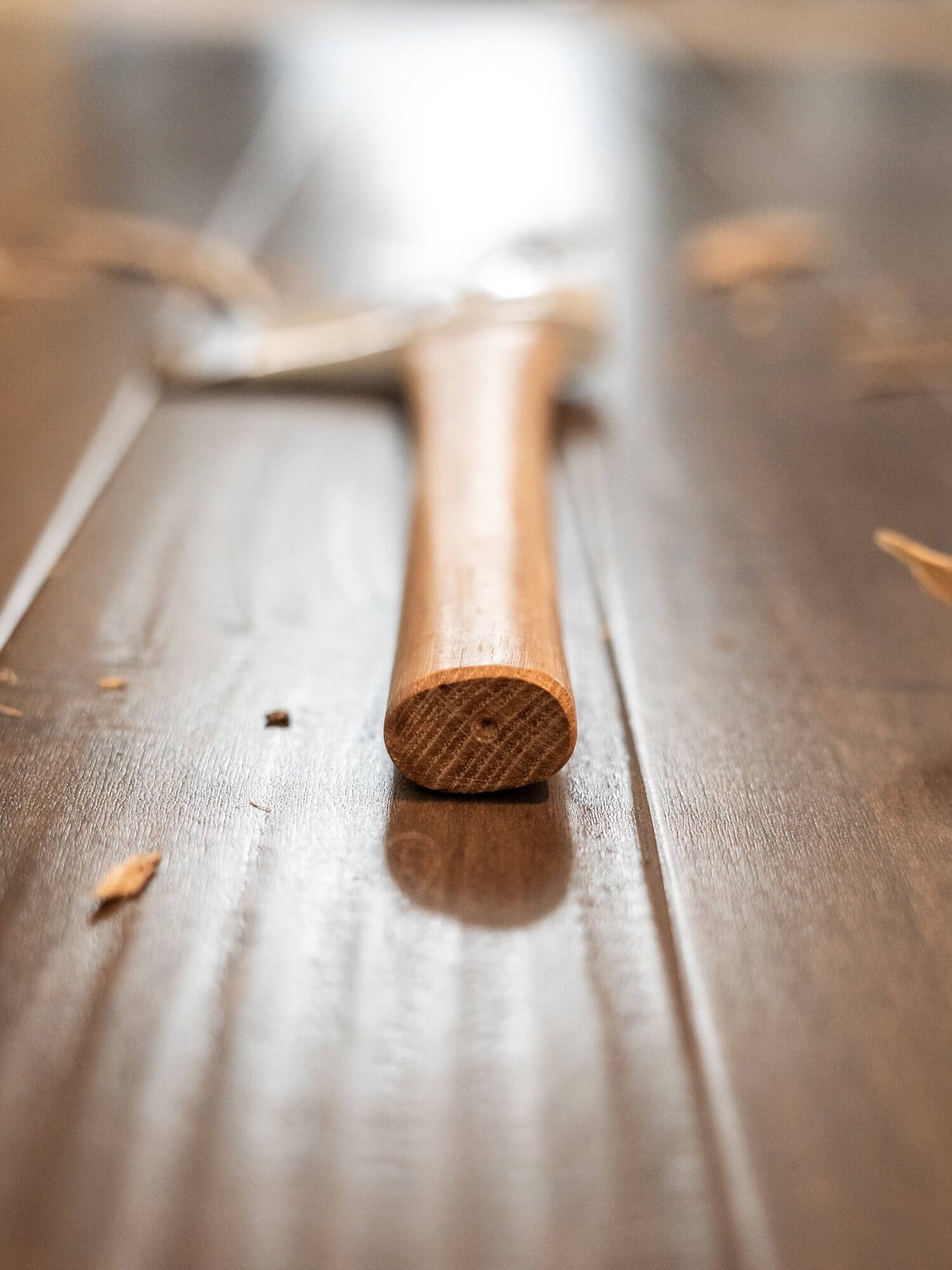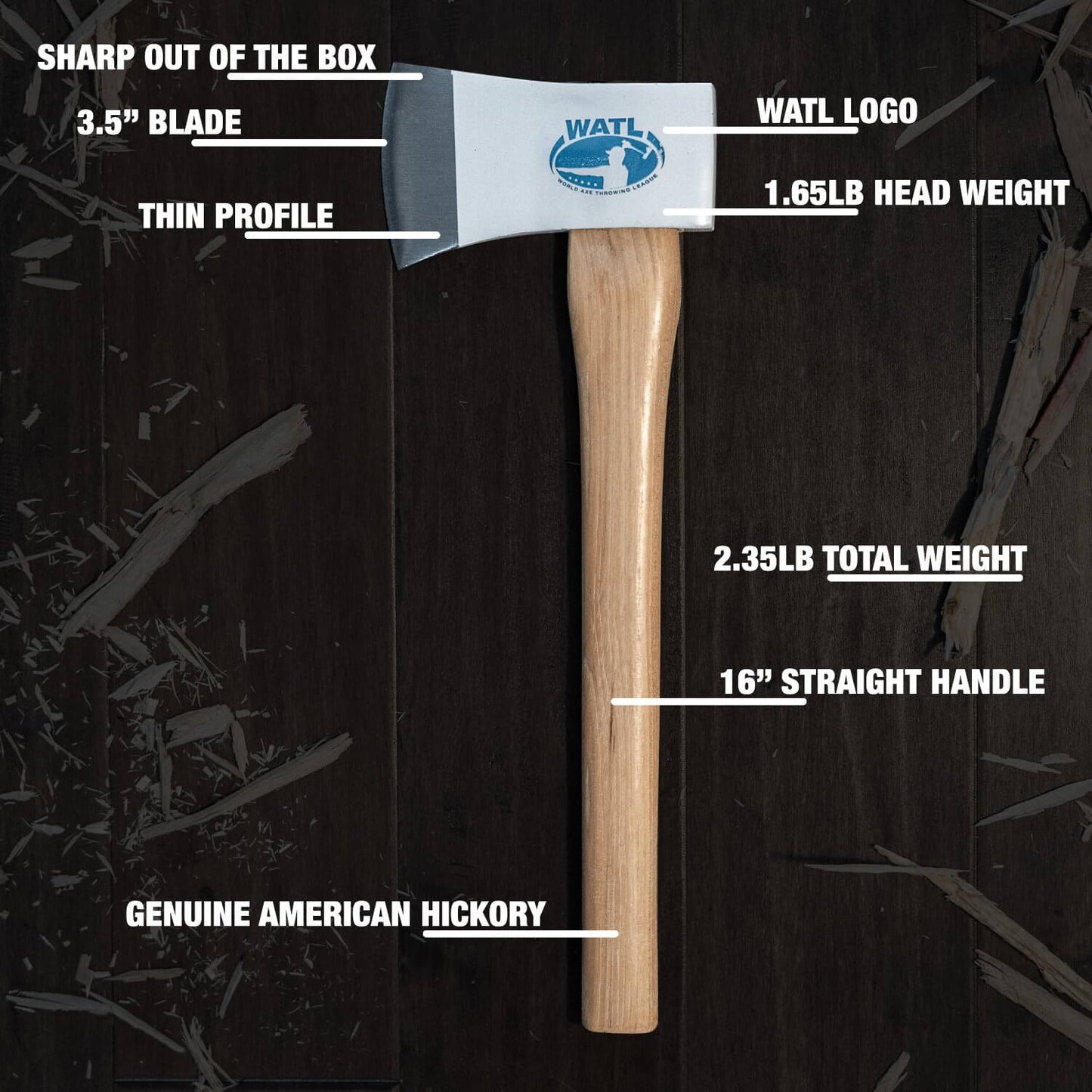 "ANYBODY OUT THERE, I'D RECOMMEND GETTING YOUR AXE AT THE WORLD AXE THROWING LEAGUE! THEY MAKE THE BEST." - CHRIS C.
Hardware store hatchets really just don't cut it! Pun intended. Stop settling for non-throwing axes and pick up a competition thrower today!